MIGHTY EAGLe BAND
Fall 2022 Info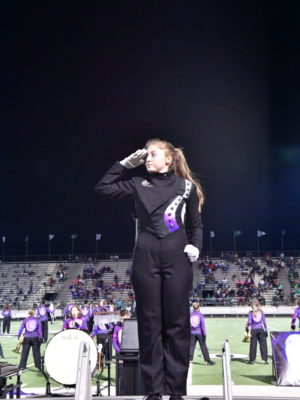 We are excited to see you take the next step in your band career with the Crowley HS Mighty Eagle Band! The MEB has a long tradition of excellence, and we look forward to continuing that success with you. Our staff and student leaders are already hard at work preparing for your arrival. Show up with a great attitude, get ready to work hard improving your skills and learning some new ones, and have a great time along the way.
Please add these important dates to your calendar:
May camp for incoming band members on May 13-14th (details below)
Summer music rehearsals every Tuesday night in June and July (optional – but come if you're in town)
Drumline and colorguard camp July 18-22
Summer marching band camp beginning July 27th
Please review the information in this packet carefully, and if you have any questions or concerns reach out via email to christopher.dunning@crowley.k12.tx.us.
Auditions
April 25-29
Auditions will take place during band classes at CHS, HFS, and RAMS from April 25-29. Students joining us from other schools please email christopher.dunning@crowley.k12.tx.us for an appointment.
Audition packets can be found here:
https://drive.google.com/drive/folders/1_Wtv82D0XPfJaa9pr0hD_XUvfcbO7wvU?usp=sharing
May Camp
Friday, May 13th, 5:00-9:00 PM (dinner provided)
Saturday, May 14th, 9:00 AM-4:00 PM (lunch provided)
May Camp is required for all members of the band, new or returning. Students will learn marching fundamentals and music for the fall marching show, try on uniforms, and order supplies for the fall. We have designed this experience to prepare you for success throughout the fall season. Camp attendance determines how many spots we will write for the fall field show, it is important that you attend camp to be counted! Saturday will conclude with a short parent meeting at 3:00 PM, followed by a student performance.
Physicals
Tuesday, May 17th from 3:30-4:30 PM, $10.
A physical exam is required for all marching band members. This is the same physical required for athletics. Crowley HS will offer physicals for students on Tuesday, May 17th for only $10. If you cannot attend, any doctor can perform your physical, but must use the provided form:
https://www.uiltexas.org/files/athletics/forms/PrePhysFormRvsd1_10_20.pdf
Summer Rehearsals
Every Tuesday in June and July, 6-8PM, CHS band hall
Come see your friends and make some music all summer long! Attend as many as you can. Learning the music early will give you a head start on the fall season and help us all be a better band.
Drumline Camp (by audition only)
Colorguard Camp (no experience required – must attend May camp)
July 18-22, CHS, details TBD
Colorguard and drumline require intensive training before summer band. For more information contact Mr. Wessels (colorguard) or Mr. Danforth (drumline).
Summer Band Camp
July 27-August 10, CHS
Summer band camp is required for all members of the MEB (including colorguard). Band camp is every weekday, Monday-Friday, from July 27 through August 10. Please attend the parent info meeting for more information including a detailed schedule.
Band Fees
Marching band can be an expensive activity. We budget carefully to keep the fees manageable. Compared to other area schools and other activities at CHS, marching band is one of the least expensive activities for your student. Fees should never prevent a student from participating in band – we can work with you on a payment plan or a scholarship if needed. Fundraising opportunities will be available in the fall to offset fees.
Fees can be paid via cash or check in the band office, or with a credit card using the CISD Revtrak system (Revtrak charges a service fee).
Pay for band fees online:
https://crowleyisdtx.revtrak.net/campus-items/high-schools/chs-crowley-high-school/chs-band/#/list
Pay for colorguard fees online:
https://crowleyisdtx.revtrak.net/campus-items/high-schools/chs-crowley-high-school/chs-colorguard/#/list
Uniform deposit – due no later than 5/16. Pays for your custom-made uniform and reserves your spot for the fall.
All marching members – $50
All colorguard – $165
Apparel packages – due no later than 5/26. Includes water jug, uniform polo shirt, t-shirt, shorts, gloves. New members must also buy marching shoes and uniform dri-fit shirt.
Returning members

$45

New marchers

$102

All colorguard

$112

Instrument rental fee (all school-owned instruments, including percussion)

Covers normal wear and tear, helps offset replacements

$35 optional summer (May-July)
$100 school year (August-May)
Marching Season Fees – Due 8/15

Covers marching music (custom arranged for the MEB) and copyright fees, drill design (custom written for the MEB), props, flags, drum heads and sticks, extra camp staff, meals at every game and contest, and other operational expenses for the MEB.

All marching members

$275

All colorguard

$375
Text Message Updates
Send this code to 81010 to join our text message updates:
All parents – @mebparent
Boosters: @eh62h9
All incoming freshmen – @meb2026
22-23 sophomores – @meb2025
22-23 junior and senior winds – @mebwinds
Percussion – @chs23perc
Colorguard: @chswg2023
Online
Official band website: https://mightyeagleband.org/
Facebook (official band account): https://www.facebook.com/CHSMightyEagleBand/
Facebook (band booster club): https://www.facebook.com/crowleyhighschoolbandboosters
Instagram: https://www.instagram.com/crowley_bands/
Instagram (Colorguard): https://www.instagram.com/crowleyhscolorguard/